P300
Vial Line
Discover the force that opens paths. Pauny Vial Line, a large park of machinery for construction work, improvement and maintenance of routes and streets, earthmoving, compaction and leveling of soils, asphalting, excavations, clearing, ditching and sanitation, among others.

The series includes all the variables to work safely, optimize times and facilitate the machinery transfer.

Robust, agile, with high durability and performance in the most diverse areas, the Pauny tractors provide ease of handling, excellent visibility and the confidence demanded by the most demanding projects.
Technical specifications
Engine
Brand/Model:
Cummins / 6LT 9.3
Power:

Engine power at rated speed kw (HP):
220
Type:
6 cylinders per line. Direct injection. Cooled by water.
Maximum rated speed (rpm):

Maximum torque (Nm):

Maximum torque pattern (rpm):

Number of cylinders:

Displacement (cm3):

Aspiration:

Diameter / Stroke (mm):

Compression ratio:

Injection:

Cooling system:

Starting system:

Torque reserve (%):

Minimum consumption (g / kw.h):

Lubrication:

Air filter:

Exhaust system:

Transmission
Type:

Front axle:

Rear axle:

Pressure of the steering system (mpa):

Speeds:

Brand:

Model:

Differential lock (NoSPin):

Torque ratio:

Maximum input speed (r.p.m.):

Maximum allowable engine torque (Nm):

Clutch
Type:

Disc diameter: PTO / Transmission

Hydraulic System
Type:

Maximum flow rate (l / min):

Flow rate (l / min):

Maximum working pressure (bar):

Working pressure (Mpa):
18
Steering system pressure (Mpa):
16
Relief pressure:

Hydraulic outlets:

Fluid reservoir:

Steering hydraulics:

Hydraulic cylinders:

Filter system:

Valve bank:

Electric System
Voltage (V):

Alternator (A):

Battery (Ah):

Power Take-Off
Type:

PTO Speed:

Drawbar:

Capacities and Weight
Fuel tank (reservoir) (l):

Tank with front PTO:

Auxiliary tank:

Hydraulic fluid tank (l):
210
Crankcase included oil filter (l):

Gearbox (l):

Rear differential (l):

Gearbox and rear differential (l):

Front differential (l):

Transmission (l):

Transmission (kg):

Transmission and rear differential (l):

Front axle (differential / hubs):

Weight without ballast in start command (kg):

Weight with ballast with water in the covers and full fuel tank (kg):

Operating weight (kg):
16940
Traction cycle time:

Maximum tractive force (kN):
155
Maximum displacement force:
160
Front wheel hub each (l):

Lubricant capacity (without radiator) (l):

Base machine weight (kg):

Front axle (kg):

Rear axle (kg):

Maximum weight (kg):

Total cycle time (s):
10,6
Articulation and Pivoting
Type:

Articulation angle (°):
37°
Minimum turning radius (mm):
6910
Total pivoting angle (°):

Brakes
Service brakes:
Disc brake on all four wheels.
Parking brakes:
Drum type / Air chamber brakes.
Traction
Simple / Double:
Tire Sizes
Front / Rear:

Front :

Rear:

Tires:

Rims:

Operator´s Station
Type:

Steering:

Cabin:

Characteristics of the steering column:

Board:

Light switch:

Seat:

Dimensions
Total dimension (mm):
8080 x 2980 x 3410
Total length (mm):

Maximum height (mm):

Max. dumping height (mm):
3130
Ground clearance (mm):
440
Height at the steering (mm):

Minimum wheel track (mm):

Maximum wheel track (mm):

Maximum single wheel track (mm):

Front wheel track (mm):

Rear wheel track (mm):

Maximum width (mm):

Total width with single wheels (mm):

Total width with dual (mm):

Max single / dual width (mm):

Length with bucket (mm):
8080
Total width (mm):

Maximum single / dual wheel track (mm):

Maximum wheel track with dual (mm):

Maximum height at the steering (mm):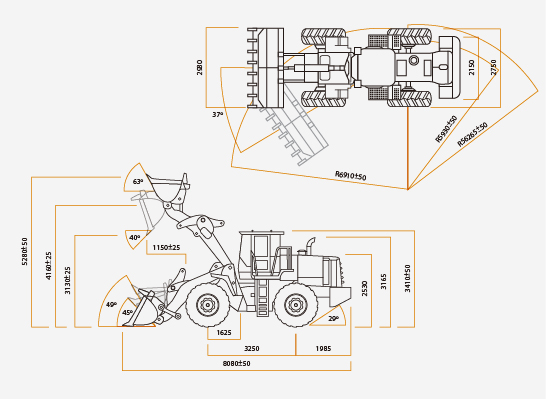 Travel Speed
Travel speed - Forward km/h):
0-38
Travel speed - Reverse (km/h):
0-31,5
Axles
Front axle:

Rear axle:

Front Loader Capacities
Bucket capacity - struck (m3):

Bucket capacity - heaped (m3):

Loading reach (m):

Dumping height (m):

Total operating height (m):

Turning angle (°):

Dumping angle (°):

Backhoe Capacities
Reach from central articulation (m):

Loading reach (m):

Operating height (m):

Digging depth (m):

Digging depth with flat bottom (m):

Arm folding force (kgf):

Turning arc (°):

Bucket penetration force (kgf):

Standard bucket width:

Loading height (m):

Operational Data
Transport height (m):

Transport width (m):

Transport length (m):

Axle spacing (m):

Cabin height (m):

Operating weight (kg):

Lights
Front Lights:

Rear Lights:

Attachment
Hydraulic lift
(Three point hitch):

Drawbar:

Category:

Lower Boards:

Standard Equipment
Backup Camera:

Hydraulic decoupling of the bucket from the cab:

Lights for night work:

Air conditioning:

Third hydraulic way for bale spear:

Hydraulic joystick:

Tandem
Type:

Thickness (mm):

Chain drive step (mm):

Axle spacing (mm):

Oscillation (°):

Type of bearings:

Moldboard
Tipo:

Dimensiones (mm):

Presión máxima de la hoja (eq. estándar)(kg):

Alcance máximo por fuera de las ruedas (mm):

Ángulo máximo para corte de talud (°):

Operaciones:

Elevación de la cuchilla:

Desplazamiento lateral:

Inclinación de la hoja:

Máxima elevación sobre el suelo (mm):

Desplazamiento lat. del centro del circulo (mm):

Desplazamiento lat. de la vertedera (mm):

Cantoneras:

Rieles:

Scarifier
Number of teeth:

Working width (mm):

Drawbar:

Ripper:

Circle
Type:

External diameter (mm):

Rotation (continuous) (°):

Supports:

Thickness (mm):

Circle drive:

Frontal excavator blade
Type:

Extra Equipment
Mud scraper kit:

Full lower enclosure:

Hydraulic tank enclosure:

Optional Elements
3 point hydraulic lift:

Rear hitch for trailer:

Air conditioner:

Sunshade roof:

Closed cabin:

Hydraulic elevator:

Counterweight:

Hydraulic equipment:

Drawbar:

LEAVE YOUR DATA TO DOWNLOAD THE CATALOG
DEJANOS TUS DATOS PARA DESCARGAR EL MANUAL