2200
Audaz Line
Audaz line adds to the field's tasks a compact of strength and agility. Small in size but great in power, it is the ideal and reliable complement to develop the most difficult and demanding tasks.
It is equipped with Cummins engine, Load Sensing hydraulic system of PREMIUM character -recommended for direct seeding with latest generation machines-, maximum power of 220 HP, and a design that offers the best level of visibility, comfort and ergonomics.
Technical specifications
Engine
Brand/Model:
Cummins / 6BTA 5.9
Power:

Engine power at rated speed kw (HP):
164 (220)
Maximum rated speed (rpm):
2500
Maximum torque pattern (rpm):
1500
Aspiration:
Turbo supercharged post-cooled.
Diameter / Stroke (mm):
102 / 120
Injection:
Direct. Rotating pump.
Cooling system:
By liquid under pressure, with thermostat.
Starting system:
Electric 12 V, with ignition key.
Torque reserve (%):

Minimum consumption (g / kw.h):

Lubrication:

Air filter:

Exhaust system:

Transmission
Type:
Helical gears, synchronized.
Gearbox:
12 speeds forward and 4 backwards.
Front axle:
Directional, tractive.
Rear axle:
Electro-hydraulic drive lock.
Pressure of the steering system (mpa):

Speeds:

Brand:

Model:

Differential lock (NoSPin):

Torque ratio:

Maximum input speed (r.p.m.):

Maximum allowable engine torque (Nm):

Clutch
Type:
PTO: Wet multi-disc.
Disc diameter: PTO / Transmission
330 (transmission).
Hydraulic System
Type:
PREMIUM. Closed center (Load sensing), with double piston pump of 45 cm³/rev.
Maximum flow rate (l / min):
225 @ 2500 rpm.
Flow rate (l / min):

Maximum working pressure (bar):
180
Working pressure (Mpa):

Steering system pressure (Mpa):

Relief pressure:

Hydraulic outlets:
3 for double effect cylinders + 2 for hydraulic engines.
Fluid reservoir:
Independent.
Steering hydraulics:

Hydraulic cylinders:

Filter system:
Metallic suction filter and 2 micron paper filters in return.
Valve bank:

Electric System
Alternator (A):
12 V, 130 A.
Battery (Ah):
One (1) of 12 V and 180 Ah.
Power Take-Off
Type:
Independent, electro-hydraulic coupling.
Drawbar:

Capacities and Weight
Fuel tank (reservoir) (l):
270
Tank with front PTO:

Auxiliary tank:

Hydraulic fluid tank (l):
123
Crankcase included oil filter (l):
14
Gearbox (l):

Rear differential (l):

Gearbox and rear differential (l):
130
Front differential (l):
9
Transmission (l):

Transmission (kg):

Transmission and rear differential (l):

Front axle (differential / hubs):

Weight without ballast in start command (kg):
7180
Weight with ballast with water in the covers and full fuel tank (kg):
9650
Nominal load (kg):

Operating weight (kg):

Bucket capacity (l):

Traction cycle time:

Maximum tractive force (kN):

Maximum displacement force:

Front wheel hub each (l):

Lubricant capacity (without radiator) (l):

Base machine weight (kg):

Front axle (kg):

Rear axle (kg):

Maximum weight (kg):

Total cycle time (s):

Articulation and Pivoting
Type:

Steering angle (°):

Articulation angle (°):

Minimum turning radius (mm):

Total pivoting angle (°):

Brakes
Service brakes:
Oil immersed discs, with independent or simultaneous pedal drive.
Parking brakes:
Oil immersed multiple discs, with mechanical drive.
Tire Sizes
Front / Rear:

Front :
16.9 x 30 / 420/85 R30
Rear:
30.5 L x 32 / 20.8 x 38 double / 800/65 R32
Type:

Tires:

Rims:

Operator´s Station
Type:

Steering:
Hydrostatics, sensitive (Load Sensing).
Cabin:
New design, more visibility. Pressurized with hot/cold air conditioning, hermetic, mounted on anti-vibration pads, with ergonomically well-positioned commands.
Characteristics of the steering column:

Board:
Instrumental compact, analog, with high resolution color TFT LDC display. Pointer indicators: tachometer, engine water temperature, fuel level and voltmeter; engine and gearbox oil pressure light alarms, critical engine water temperature, battery charge, air filter clogged, differential block, double traction coupled, handbrake, right - left turn, beacons, high light, fuel reserve.
Light switch:
Multi control key, hermetic.
Seat:
Anatomical, with longitudinal, vertical and by weight of the operator regulator.
Theoretical Speeds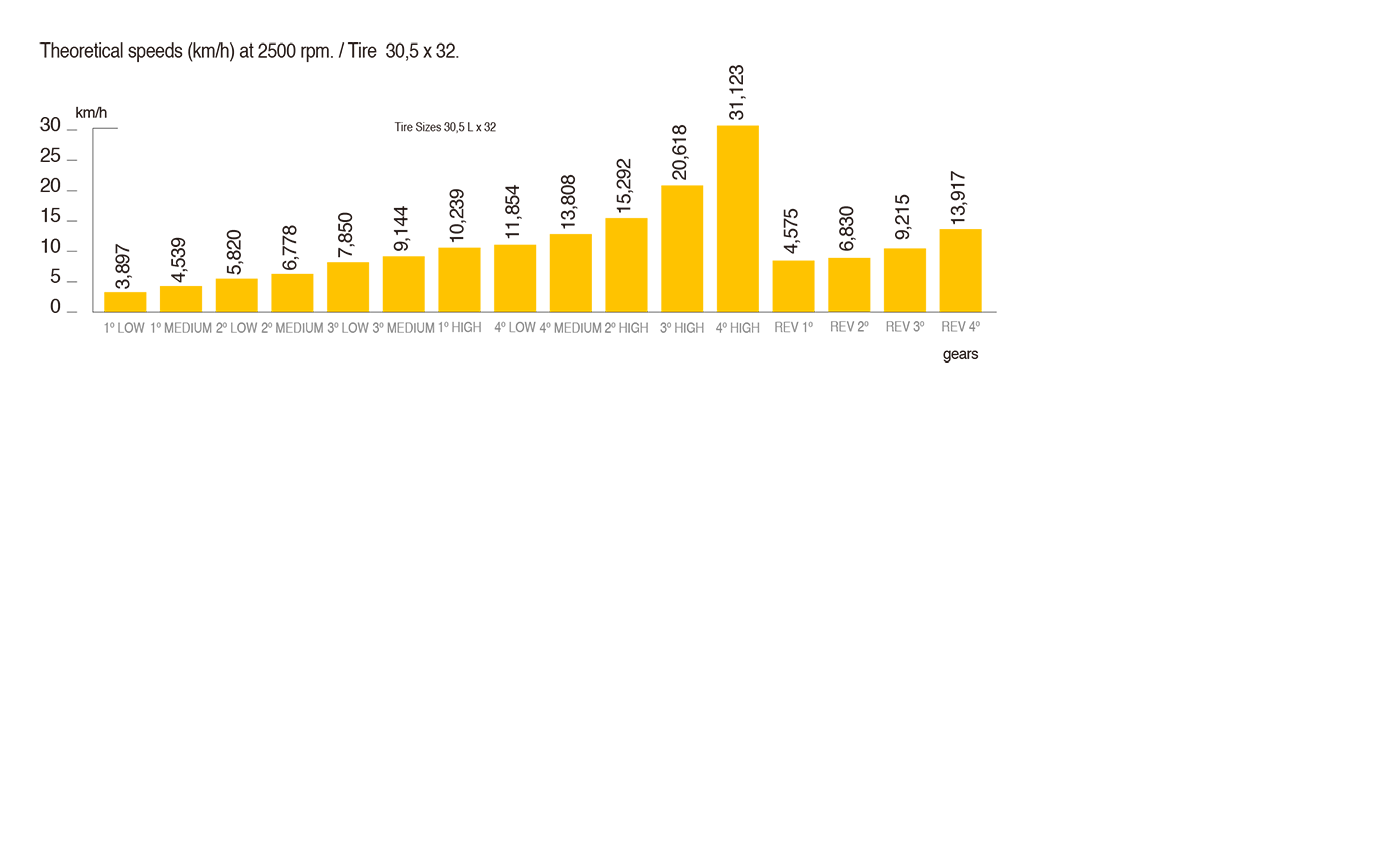 Dimensions
Total dimension (mm):

Maximum height (mm):
3260
Max. dumping height (mm):

Dumping reach (mm):

Ground clearance (mm):
500
Height at the steering (mm):
2070
Minimum wheel track (mm):

Maximum wheel track (mm):

Maximum single wheel track (mm):

Front wheel track (mm):
2100
Rear wheel track (mm):
2530
Wheel track (mm):

Maximum width (mm):

Total width with single wheels (mm):

Total width with dual (mm):

Max single / dual width (mm):

Length with bucket (mm):

Maximum single / dual wheel track (mm):

Maximum wheel track with dual (mm):

Maximum height at the steering (mm):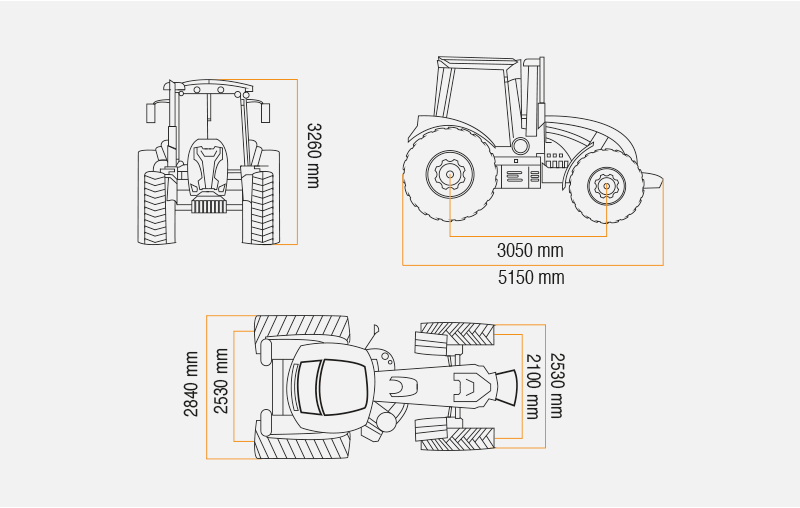 Travel Speed
Travel speed - Forward km/h):

Travel speed - Reverse (km/h):

Axles
Front axle:

Rear axle:

Front Loader Capacities
Bucket capacity - struck (m3):

Bucket capacity - heaped (m3):

Loading reach (m):

Dumping height (m):

Total operating height (m):

Turning angle (°):

Dumping angle (°):

Backhoe Capacities
Reach from central articulation (m):

Loading reach (m):

Operating height (m):

Digging depth (m):

Digging depth with flat bottom (m):

Arm folding force (kgf):

Turning arc (°):

Bucket penetration force (kgf):

Standard bucket width:

Loading height (m):

Operational Data
Transport height (m):

Transport width (m):

Transport length (m):

Axle spacing (m):

Cabin height (m):

Operating weight (kg):

Lights
Front Lights:

Rear Lights:

Attachment
Hydraulic lift
(Three point hitch):

Drawbar:

Category:

Lower Boards:

Standard Equipment
Backup Camera:

Hydraulic decoupling of the bucket from the cab:

Lights for night work:

Air conditioning:

Third hydraulic way for bale spear:

Hydraulic joystick:

Tandem
Type:

Thickness (mm):

Chain drive step (mm):

Axle spacing (mm):

Oscillation (°):

Type of bearings:

Moldboard
Tipo:

Dimensiones (mm):

Presión máxima de la hoja (eq. estándar)(kg):

Alcance máximo por fuera de las ruedas (mm):

Ángulo máximo para corte de talud (°):

Operaciones:

Elevación de la cuchilla:

Desplazamiento lateral:

Inclinación de la hoja:

Máxima elevación sobre el suelo (mm):

Desplazamiento lat. del centro del circulo (mm):

Desplazamiento lat. de la vertedera (mm):

Cantoneras:

Rieles:

Scarifier
Number of teeth:

Working width (mm):

Drawbar:

Ripper:

Circle
Type:

External diameter (mm):

Rotation (continuous) (°):

Supports:

Thickness (mm):

Circle drive:

Frontal excavator blade
Type:

Extra Equipment
Mud scraper kit:

Full lower enclosure:

Hydraulic tank enclosure:

Optional Elements
3 point hydraulic lift:

Rear hitch for trailer:

Air conditioner:

Sunshade roof:

Closed cabin:

Hydraulic elevator:

Counterweight:

Hydraulic equipment:

Drawbar:

LEAVE YOUR DATA TO DOWNLOAD THE CATALOG
DEJANOS TUS DATOS PARA DESCARGAR EL MANUAL